Skin Essentials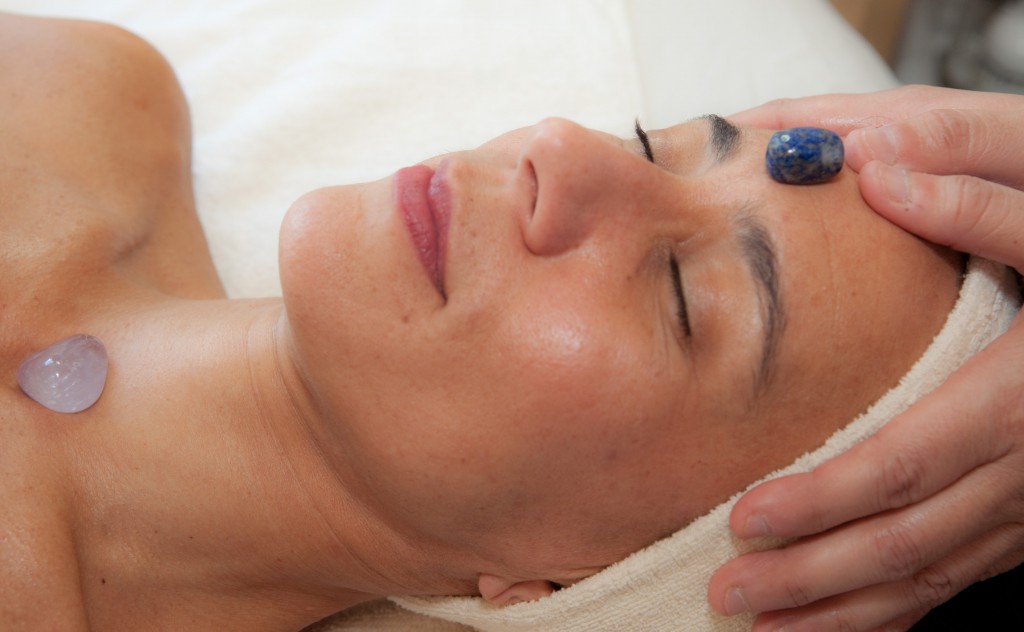 All AcuSpa treatments are customized exclusively to your skin and special needs,
unveiling your true radiance at all stages of life.
All facials use Clarisonic Pro to ensure the best cleanse and highest product absorption possible.
Consultation Always complimentary. 15 min
Spa Facials
Five Element Facial
According to Traditional Chinese Medicine, all esthetic conditions result from an internal energy imbalance. Here at AcuSpa we offer the Five Element Theory classification as a guide to the five possible skin conditions. Complete our Quiz to determine your element. Together you and your aesthetician will choose the best facial for you. This revitalizing treatment is customized exclusively to your element and includes a double cleansing, an exfoliation, extractions, a specialized masque and a massage of your face, neck, and shoulders.
60 min $95
AcuSpa Signature Facial
Pamper yourself with our Five Element Facial plus hand paraffin with massage, a foot scrub, and your choice of one of our facial add-ons.
90 min $150
Deep Pore Cleansing Facial
Correction and healing treatment to control breakouts, promote skin repair, clear blemishes, prevent future breakouts, and reduce oil production.
75 min $105
The Back Facial
Does your back need deep pore cleansing, skin hydration, and relaxation? Treat yourself to the full benefits of facial on your back.
60 min $95
Back Acne Treatment
For those who need more detailed attention and stronger products.
60 min $105
Facial Enhancing Add-ons:
Eye Treatment $10
Aromatherapy $10
Scalp Treatment $25
Hand Paraffin $15
Foot Treatment $15
Cosmetic Chinese Facial-refer to acupuncture page. For those looking to restore their skin, try our more advanced facials for smoother, younger looking skin.
Advanced Skincare Treatments
Microdermabrasion Facial

For your fresh new look, we use a diamond tip to diminish fine lines, wrinkles, pigmentation, sun damage, occasional breakouts or daily acne. Stimulates collagen & elastin production and reduces any type of scarring. Includes a full facial.
*If you are interested in Microdermabrasion treatment,
please carefully read over the information
located at the bottom of this page to decide if you are a candidate.
Face Only $150 Add-ons:
Neck $30 or Decollete $30+
Hands $30
Back- Upper or Lower, each $155
Deluxe Microdermabrasion Treatment
Our wonderful Microderm Facial, plus an added oxygen treatment. Your choice of neck or decollet. A hand paraffin wax is also included.
90 min $200
Dermo Treatment
The right combination of Nature, Science and the latest Non-Invasive technology:
Microcurrent – diminishes appearance of fine lines, creases and wrinkles.
Ultrasonic Massage – sound wave technology to penetrate deep below the surface of the skin promoting cellular repair.
LED Rejuvenating light – clears blemishes and minimizes pores.
Ion- Infusion – stimulate blood circulation and increase cell metabolism.
High frequency Ozone – improve skin complexion, supply skin with oxygen, helps with acne, pimples and skin irritation, kills the bacteria.
90 min $140
Oxygen Treatment
This awesome treatment combines a variety of different vitamins, enzymes, minerals, and amino acids with the use of oxygen gas. Your skin will be specially cleansed and primed to absorb concentrated doses of vitamins A, E, and C. This is an ideal treatment for all skin types. The results will be dramatic and phenomenal! Very helpful for acne prone clients.
75 min $115
Peels
Intensive treatment for various skin conditions: dry to oily, acne prone or sun damaged skin types. Great for improving texture, reduce pore size, fine lines and wrinkles, hyper pigmentation and control acne.
Includes Mini Facial. Chemical Peel or Enzyme Peel $105
Microdermabrasion Questionaire
If you answer YES to any of the following questions, you may NOT be a candidate for Microdermabrasion treatment.
Y / N Active Acne €œwet acne € (Grades II €" IV), pustules, papules, cysts, boils
Y / N Accutane
Y / N Diabetes, healing time takes longer, poor blood supply
Y / N Immune deficiency diseases
Y / N Vitiligo €" melanocytes have disappeared from the affected skin, appears very white
Y / N Lupus erythematosus €" any kind of skin lesion can occur including macules, papules, plaques, bullae, nodules and ulcers
Y / N Hypopigmentation €" lesions result from decreased melanin production appearing very white
Y / N Eczema, dermatitis, psoriasis €" these are generally inflammatory rashes with increased epidermal proliferation and appear as silvery scales
Y / N Skin Cancers
Y / N Viral lesions (herpes simplex) or cold sores (2-4 weeks prior to treatment client should start on acyclovir or Valtrex. *These medications must be prescribed by a physician.)
Y / N Warts
Y / N Vascular lesions (hemangiomas or €œport wine stains €)
Y / N Telangiectases (cuperose, €œbroken capillaries €)
Y / N Oral blood thinners (aspirin, etc.)
Y / N Open lesions
Y / N HIV
Y / N Have you had any facial waxings within the last 7-10 days prior to treatment
Body Waxing
WAXING GALORE

Eyebrows
Design $30+ Upkeep $25+
Face
Lip or Chin $15 Cheeks $18 Full Face $65
Body
Chest $25+ Stomach Line $15+ Full $25+ Full Back $60+
Arms
Underarms $25 Half Arm $30 Full Arm $45+
Legs
Full Leg $65 Half $35+
Bikini Area
Line $30 Extended $40 Playboy $50
Brazilian $65+ Derriere $25+
* We use "Hard Wax" ….less painful!