"Tension is who you think you should be. Relaxation is who you are."
Chinese Proverb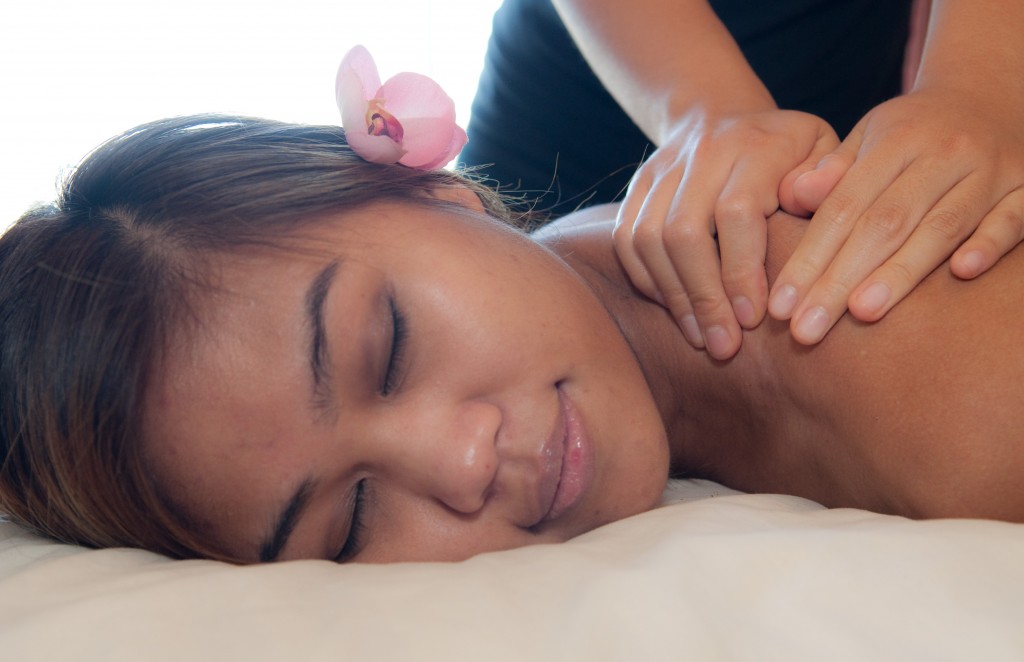 At AcuSpa all our massages come with a complimentary "Health Habit" evaluation. This allows our therapists to have a good understanding of your needs so that your massage can be therapeutic as well as relaxing......ahhhh. In addition, unlike other spas, AcuSpa services are a FULL 60 minutes and we allow 15 minutes in between each services, which means our therapists are not rushed and will have ample time to rejuvenate before your service.
CLASSIC SPA MASSAGES
Swedish Massage
Traditional massage with long soothing strokes with varying degrees of hand pressure. This treatment is ideal for relaxing the mind, improving circulation, and reducing minor muscle tension.
60 min $115
90 min $150
Deep Tissue Massage
Deeper pressure and/or advanced techniques to alleviate more serious conditions. Ideal for those who feel the discomfort from aches and pains created from work. Helps restore you to your daily activities. Includes a Sombra neck wrap.
60 min $165
90 min $190
COMBINATION MASSAGES
Ultimate Massage~ Signature Service
Your ultimate service begins with a relaxing nourishing fruit oil massage, followed by a manual herbal exfoliation, then second exfoliation with fruit acids during detoxifying wrap (face, neck, scalp and feet massage) Your service concludes with a rich skin hydrating second body massage. It is truly the Ultimate!
90 min $200
The Works
Intended for those who need a lot of recovery in one session. Relax and regenerate with a deep tissue massage, enhanced with aromatherapy, a foot treatment, a two-part scalp therapy, and Sombra heat therapy for the hands, neck and shoulders.
90 min $200
Prenatal Massage
A wonderful way to reduce the stress of pregnancy by reducing muscle tension and fatigue, alleviating water retention and increasing blood circulation.
60 min $115
Head and Shoulders
This treatment is designed to relieve muscle tension along the head, neck and shoulders. As your neck and shoulders are being prepared with Sombra heat therapy, enjoy a two-part scalp treatment and face massage. Once warmed-up, massage is focused on the neck and shoulders to reduce all the tension build-up.
45 min $100
Deluxe Foot Treatment
Restore your tired restless feet while calming your whole body. It's true, your feet have pressure points accessing your entire body! This treatment includes a vigorous scrub and hot towel wrap with essential oils, followed by a thorough and invigorating foot massage.
30 min $70
LYMPHATIC MASSAGES
Lymphatic Drainage- post surgery or feeling sluggish?
Manual Lymphatic Drainage uses a range of specialized and gentle rhythmic pumping techniques to stimulate the lymphatic flow. This flow carries substances vital to the defense of the body and removes waste products. It can boost the immune system, reduce fluid retention, and help detoxify the body. The treatment is also quite relaxing to the client as it has a highly calming effect on the body.
45 minutes - $130
5 sessions - $575
10 sessions - $1000
Learn more on our Lymphatic Drainage page!
Lymphatic Drainage Stage II: Skin Tightening
Therapist will use more aggressive movements to help shape, contour and tighten the skin all while continuing to flush. LDM II: Skin Tightening takes advantage of the crucial period while the body is still malleable after surgery to tighten loose skin.
45 minutes - $150
5 sessions - $675
10 sessions - $1250
Learn more on our Skin Tightening page!
ASIAN INFLUENCES
Chinese Cupping Massage
An ancient technique utilizing fixed and moving cupping along with therapeutic massage to increase the flow of blood and Qi. Effective in relieving muscle pain or early symptoms of colds and/or flu. For your awareness, please understand this technique can temporarily leave red marks on the skin.
60 min $140
Healing Hot Stones
Long known for deep relaxing qualities, these warm stones are massaged along muscle groups and retained in the best spots to release muscle tension.
60 min $140
90 min $190
MASSAGE ENHANCING ADD-ONS
Shea Butter/Sea Salt Foot Treatment- scrub, mask and a hot towel wrap.
$20
Scalp & Hair Treatment- invigorate and nourish. Includes massage.
$30
Essential Oils- perfect to enhance any treatment.
$15
Sombra Neck Wrap- muscle relaxer with hot towel wrap.
$20
SERVICE ADD-ONS
Celluma Red Light Therapy - read more on our Celluma page.
$30 for 30 minutes
Infrared Sauna- detox your body by breaking a sweat, read more here!
$30 for 40 minutes
Cupping - read more on our massage therapy page.
$25 for 15 minutes
Swedish Massage Add-On
$25 for 15 minutes
$55 for 30 minutes
$85 for 45 minutes
Deep Tissue Add-On
$30 for 15 minutes
$65 for 30 minutes
$95 for 45 minutes
---