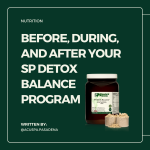 Doing a detox feels good. Understanding how your detox works feels better. 
So that's why we created this page for you! At AcuSpa, we've seen countless patients completing the SP Detox Balance Program. Over the years, we've noted a few tips and tricks that really stand out! We've found that proper preparation, planning, and a little creativity can turn a good detox into a great one. Let's dive into how to plan for this program. 
Before you begin your SP Detox Balance Program,
Let's assess a few things. We recommend a week before your detox, you take a full week to reflect on your daily habits. This is where you'll be choosing either the 10-day or 28-day program. The calendar on page 13 breaks down how many shakes you'll be drinking each day. As you go about your week, visualize what a day on the detox could look like by analyzing the following:
Uncover toxins in your personal environment. You'll want to look around your home and take inventory of potential toxin sources. By now we all know toxins can be found in home-cleaning chemicals, but did you know that they can also be found in household items like candles, cosmetics, and some plastic food containers? See if you can recycle or toss anything that doesn't align with your detox goals.
Analyze your drinking habits. How many oz of coffee and/or alcohol do you drink each day? Do you drink a lot of sugary drinks like juice, soda, and sweetened teas? It's so easy to sip away your calories. Ask yourself these questions and try to limit yourself to one cup (8 oz) before eliminating completely.
Calculate your water intake. It's important to drink half your body weight in oz of water at least. You should drink more if you're exercize or in warm weather. Your detox shakes should ideally be made only with water, so take these into account as well. 
During your SP Detox Balance Program, 
Remind yourself that you got this! Take a little time each day to prepare yourself!
Stash your servings. Fill empty reusable bottles with a pre-portioned amount, then stash one in your car, desk, bag, and bedroom. This is the easiest way to ensure you'll never miss a shake. When you're ready for your shake, just add water! 
Stock up on snacks. Snacks truly make or break a detox! Produce is a lot easier to snack on if it's already chopped. Focus on healthy options nuts, crackers, homemade protein bars, etc., and measure them out for the week.
Enhance your shakes. The SP Detox shakes have a mildly sweet and earthy taste that adopts the flavor of anything you add. Page 66 lists some recipes to spice up your shake. 
Meal prep your shakes. If you have enough fridge space, make a batch of shakes, especially when you're at the point where you're consuming three shakes daily. This hack makes it so easy to grab and go.
After your SP Detox Balance Program, 
Take a brief moment to congratulate yourself. You did it! Even if it wasn't perfect, you still dedicated time and energy to caring for yourself, and we're so proud of you. 
Continue to eliminate. Now that you know where to find them, keep up with removing toxins from your home and diet. Purchase items for yourself and your home that are free from any preservatives, additives, dyes, and heavy metals.
Look into other detox maintenance options. For weekly maintenance, we're big fans of using the infrared sauna. Continue to drink water and eat cleanly. It's a good idea to redo the detox once a year or every few months depending on your exposure to toxins.
Meet with your healthcare practitioner. Once the program is done, set up an appointment with your healthcare practitioner to see what your next steps should be. Many patients use the SP Detox Balance Program as a jumping-off point to control issues with their health. The detox gives you a clean slate. 
Take our detox survey! We're so passionate about the SP Detox Balance Program and the benefits it has on our patients, that we wrote a brief questionnaire. With the collected feedback, we hope to offer more information like this post. Please fill it our by clicking HERE.
We appreciate you for reading! What SP Detox Tips would you add to this list? 
For more information on the SP Detox Program, click HERE